This is pretty handy if you're tired of stumbling around in the bathroom in the middle of the night, but don't like to turn on bright lights. Even with a nightlight it can sometimes be hard to see in the bathroom.  The GlowBowl nightlight is motion activated and fits any toilet in seconds. It can rotate or be set to display seven different LED colors. It's battery operated and also has a dimmer to select your level of brightness. The GlowBowl makes it easy to see exactly where to put your buns.
Pretty cool!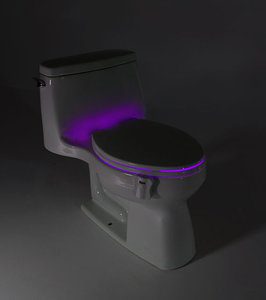 The GlowBowl will transform ANY toilet into a nightlight.  No more missing your target or stumbling around in the dark in your bathroom – The GlowBowl is motion activated, light-sensitive and solves all your night time bathroom problems. With the touch of a button, you get your choice of 7 different colors in 1 device: blue, purple, aqua, yellow, red, white or green.
With The GlowBowl, you no longer need your old fashion bathroom nightlight. GlowBowl puts the light where you need it most. GlowBowl has 5 stage dimmer feature that will allow you to further customize your experience with the brightness level you desire.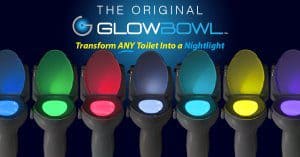 GlowBowl in a Nut Shell!
Motion Activated, so it turns ON when you enter and OFF when you leave. When you enter the GlowBowl will automatically activate, lighting your way.

Light Sensitive (Only activates in darkness). GlowBowl will deactivate the instant it detects light to maximize battery life.

Fits ANY Toilet!! Flexible are that will take the shape of any type toilet and will stay in place.

Select from 7 LED colors with just the press of a button.  (blue, yellow, purple, white, aqua, red, and green)

Carousel mode that will rotate colors automatically every 4 seconds if selected. 

5 stage dimmer to select your level of brightness.

Powered by 3x AAA Batteries (Not Included)