How to choose the right LED tube 
Since LED light bulbs are still fairly new, there are still a lot of questions on how to pick out LED T8 fluorescent replacement tubes. It can be confusing because there are different lengths, different colors, and different specifications for how they work. Here is a simple explanation of how to pick out an LED fluorescent bulb replacement.
What size is it?
First you should check what size you have. Most likely, it is a four foot tube. If you have the old style, thicker tube which is a T12 tube, you can replace that, as well. The newer, thinner size tube is called a T8. You can also get two foot and 3 foot tube replacements.
What color is best for the area?
Next, you should think about which color you prefer. I like the higher temperature (cooler) color tubes for offices, garages, and even kitchens. Some people prefer a lower temperature color (warmer) when you want a soft look like in bathrooms, dressing rooms, and some kitchens. The cooler temperature tubes will have a higher kelvin number like 5000K or 6500K. The warmer tubes have a lower number like 3000K or 3500K.
Direct install or ballast bypass?
Then, you need to decide if you want a plug-and-play tube that goes right into your existing fixture with no additional wiring, or if you want to remove the ballast with a little rewiring. The advantage of using the rewire type of tubes is that once you remove the ballast and rewire the fixture, you never have to worry about changing the ballast again, and it will eventually burn out.
Here are some options with descriptions to help in figuring out which style they are:
T8 T10 T12 LED Light Tube 4FT, Hyperikon, Dual-End Powered, Works with and without T8 ballast, 18W (40W equivalent), 5000K (Crystal White Glow), Frosted Cover, UL-listed and DLC-qualified – 4-Pack
I really like these four foot tubes the best because they are a daylight color (5000K) and they give you the option of putting them right into the fixture with no rewiring, OR you can remove the ballast so you never have to worry about it again.
2 X Novolumi® 4ft 18W T8 Superior LED Fluorescent Tube Light, 3000K, Warm White, Milky Cover, UL Approved
This is a set of two, four foot, warm (3000K) tubes which would be great for a bathroom or area where you want warmer, softer lighting. In the description, you will notice that it says "no ballast and starter required". This means that you will have to bypass the ballast by rewiring the power to the sockets, but it is extremely easy and it comes with instructions. This is the best way to go if you don't mind doing it because you won't have to replace the ballast later, which will require wiring and buying a new ballast.
Hyperikon 841000701 T8 LED Light Tube, 4ft, 18W (36W equivalent), 4-Pack
If you know for sure that you want to bypass the ballast with a little rewiring (which I recommend) This set of cool color (4000K) tubes is a great option at a great price. The cool color at 4000K is the "cool white" we are most used to seeing, since this is the most common color of fluorescent tubes that have been used over the last few decades. Once you install these, you shouldn't have to worry about them for at least five years.
Hyperikon® T8/T10/T12, 3ft LED Light Tube, Dual-End Powered, 14W (36W equivalent), 1680 Lumens, 4000K (Daylight Glow®), Clear Cover – (Pack of 4)
This is a 4-pack of three foot (36″) LED tubes that is a cool color (4000K). These are the ballast bypass type that require rewiring, but it's extremely easy to do. They are rated at 45,000 hours which should last for seven years!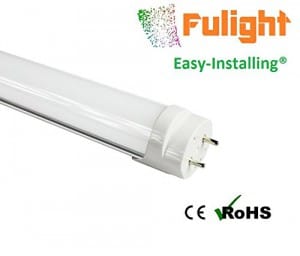 Fulight Easy-Installing & Warm¤ T8 LED Tube Light – 2 foot 10W (18W Equivalent), Warm White 3000-3500K, F17T8, F18T8, F20T10, F20T12/WW, Double-End Powered, Frosted Cover
If you need a two foot LED tube, this is a nice option which is a warm (3000-3500K) tube and would be great for a bathroom or kitchen. Comes with instructions for super-easy rewiring to bypass the ballast.
For more detailed information on LED tubes, please visit my page:
LED T8 Tube Replacement: Direct Install or Ballast Rewire when you replace fluorescent tubes with LED?