I've put together a list of nice, high-quality security fixtures available on Amazon to make it easy for people to look at a small selection and make an educated choice. I have chosen some different options with different features depending on the user's needs and mounting. These are the ones I really like.
This is a nice, compact fixture for an area where you have a light switch and you want energy-saving LED light output which is low-maintenance and will last. Rated at 35,000 hours, you should get 4 or 5 years out of this fixture without ever having to change a bulb. It has a die-cast aluminum housing and polycarbonate lens. The hooded design directs light outward and protects from rain.
Lithonia is probably the top lighting manufacturer in the U.S. as far as quality and name recognition. This is a great fixture if you have an existing wall outlet box and you want a photocell for automatic dusk-to-dawn operation. This fixture's corrosion-resistant housing is made of a rugged cast-aluminum with a bronze finish. The tempered glass lens is gasketed to keep out moisture, bugs, and dirt. At 18 watts of LED lighting output, it puts out plenty of lumens and won't use much electricity. Includes free shipping.
As another leader in the lighting industry, GE has another nice security fixture option which in addition to a photocell, has a motion sensor. This fixture turns on automatically so you don't have to worry about turning it on and off, and it will come on only if it's dark and it senses motion. It has a rugged all metal casing and its adjustable thumb screws require no tools for adjusting the heads. This is a great option if you want to be able to aim the light in two different directions. It only uses 10 watts and the efficient LED lamps are rated at 50,000 hours.
If you need a lot of light and a fixture that stays on all night, you may want to consider this fixture which mounts to a wall box. Comes with a built-in photo sensor for dusk-to-dawn operation. The light output is a cool 4000k which gives a nice white light. Amazon users give it really good reviews even though the housing is made of durable plastic. Designed as a replacement for metal halide fixtures and several users said it was even brighter, so the energy savings is very good compared to 100 to 150 watts. Also available in white.
Another fixture from Lithonia is this 3-light LED with motion sensor. This is the first fixture I've seen with three adjustable heads, which gives you great light coverage and a 70-foot range. It's made of rugged cast-aluminum and has tool-free adjustable heads. At only 30 watts, this fixture is an outstanding, high-quality option for energy-saving security lighting.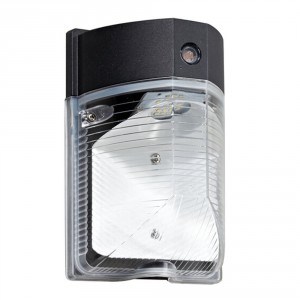 I wanted to include a wall pack fixture for those looking for this type of fixture that doesn't need to be adjusted. This LED fixture is a replacement for a 75 – 150 watt high-pressure sodium fixture at only 17 watts. Includes a photocell for dusk-to-dawn operation and has a die-cast aluminum housing.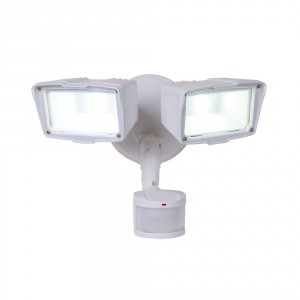 This is a nice option if you like the rectangular look more than the round heads. Like the GE fixture, this fixture has adjustable heads and motion sensor, and includes a manual override which allows the fixture to be switched on for six hours. Made of die-cast aluminum with tool-free adjustment.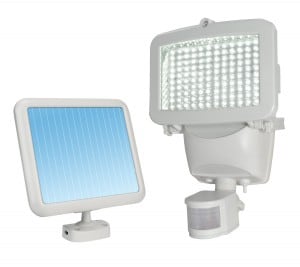 Last but not least, here is a solar option for an area where it might be difficult or expensive to install an electrical box. This fixture needs no wiring, has its own solar panel, and can be installed almost anywhere. It's fully weatherproof and re-charges in low-light conditions. The light panel is adjustable and has a motion detection range of 30 feet. It gets good reviews for a newer technology fixture that hasn't been around for very long.
Please feel free to leave me any comments or suggestions you may have and thanks for stopping by!