Hi and welcome,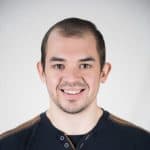 My name is Eugen, and I am the guy behind LED Lighting Info.
I always had a weak spot for cool lighting gadgets. I remember the first one I have ever had being a teenager was one of those plasma globes that you put on the table and play with it.
It didn't stop there, and soon I had all sorts of weird lighting products like shoelaces, mugs, lighting yo-yo, or lights attached to the wheels of my bicycle.
As you can imagine, I have been one of those cool boys with plenty of unnecessary lighting gadgets. Well, don't judge me, we all had something 🙂
Moving forward, the idea of creating this blog came to me after I first moved into my own place.
Empty place.
As I started to fill the place with furniture, the time has come to think about how I should light the apartment.
I have gone to many stores, and they had these beautiful fixtures and lamps.
I got lost in the selection and, at the same time, was fascinated that there is much more to lighting than just a bulb.
As I had all these questions and learned more, I have thought that others could be facing the same issues as I did.
This leads me to the following point.
Why Should You Read This Blog?
Did you know that lighting has a bigger impact on the overall design of your room than you thought?
Let me explain.
Installing the light on the right spots in your house, you can make accents on the areas you like to be more prominent.
At the same time you can hide areas that you don't want to drive attention to.
Next, by choosing the right color temperature of the bulb, you can drive the emotions of your guests.
Romantic dinner or relaxing bath?
Make sure you go with warm and accomodating colors.
Need to focus on finishing the car repair in your garage?
You would need some bright light to help you focus.
Last but not least, lighting can change the way people perceive the colors of the furniture.
Remember when you have seen that beautiful brown leather sofa in the shop, and when you have placed it at home it didn't look as appealing?
Well, chances are the problem lies in the type of lighting in your living room.
That being said…
I have been where you are now. Maybe I even had the same questions as you have now.
Let me know if you have questions about LEDs or other types of bulbs, or need help selecting a light for your backyard, garage, or kitchen.
You will find tons of information here.
So stick around, and if you ever need help with anything, just let me know via the contact form below.
You can also find me on Facebook and Pinterest.
Cheers,
Eugen
______