Being the energy-conscious, tech-savvy, economically-sensible person in your family and your street, you're ready to swap out your old incandescent and halogens for the best LEDs on the market.
Before you purchase 10 of those LEDs you've had your eyes on, give this guide a read to see if you can use LEDs in any light fixture.
LED bulbs can be used in any light fixture they fit, as long as they are within the fixture wattage, not enclosed or air-tight, and fixture is not an old-style dimmer system.

In this guide, I'll cover:
Whether you can use LED light bulbs in incandescent fixtures
If you can mix LED light bulbs and older bulbs in one fixture
Can I Use An LED Bulb In An Incandescent Fixture?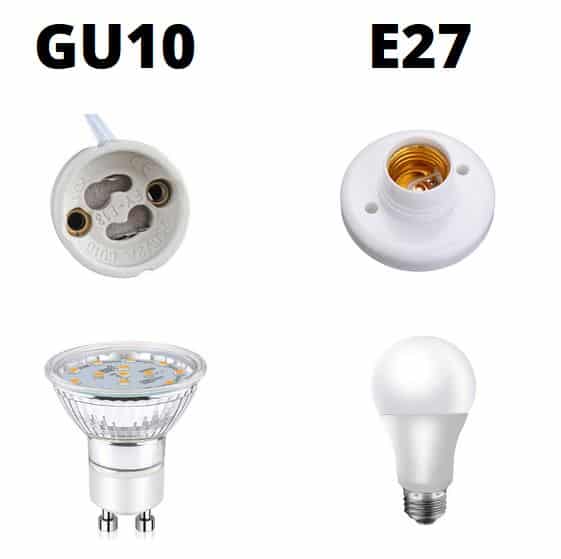 LED bulbs can be used in a standard incandescent fixture, provided they have the same bulb base and are designed for the same voltage circuit. LED bulbs can also replace halogen lights too.
The two most common bulb bases are either the E27 screw type or the GU10 pin type. Both of these are available in LED bulbs as well.
Sometimes the halogen or incandescent bulb is meant to be decorative and visible outside the fixture.
If that's the case, your replacement LED bulb should be appealing to look at. For example, the Edison (Amazon) or Globe bulbs (Amazon) are all the rage in aesthetic lighting.
Can You Replace Incandescent Bulbs With LED?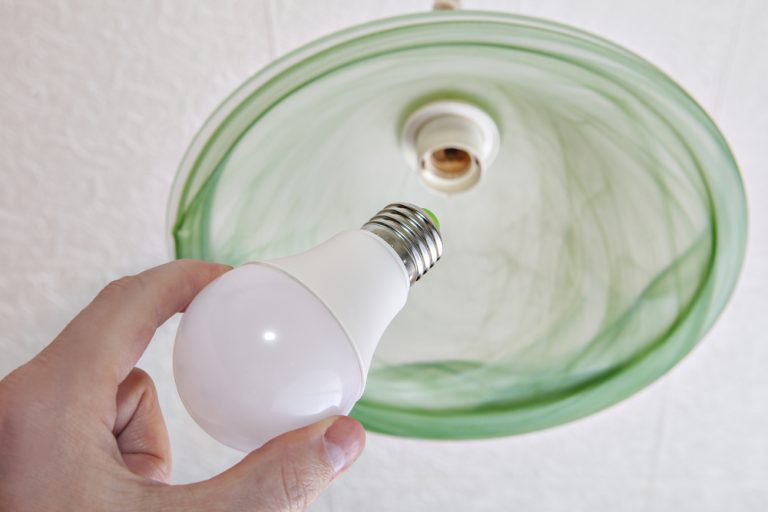 You can replace an incandescent bulb with an LED light bulb. The wattage won't match because LEDs use much fewer watts to generate the same amount of light. Instead many LEDs advertise a wattage equivalent, showing which incandescent lights they're as bright as.
Even better, keep an eye out for Lumens, which is the light output, instead of wattage, which is power consumption.
For example, LEDs may use 8.5 watts, and halogens may use 30 watts of energy to shine as bright as a 60-watt traditional bulb.
Similarly, an 18 W halogen bulb outputs around 220 lumens, while an 18 W LED bulb outputs more than 1300 lumens.
Here is a conversion chart:
LUMENS TO WATT CONVERSION CHART
Brightness in Lumens
220+
400+
700+
900+
1300+
Incandescent
25W
40W
60W
75W
100W
Halogen
18W
28W
42W
53W
70W
CFL
6W
9W
12W
15W
20W
LED
4W
6W
10W
13W
18W
Also, you can read up on the differences between a halogen and an LED bulb to see which will serve you better. I think you know the answer.
Are LED Bulbs Safe In Enclosed Fixture?
LED bulbs are generally safe in enclosed fixtures, but there's a risk they'll run hot and shorten their lifespan. Buy 'enclosed-rated' LEDs if you want bulbs that will last a long time in enclosed light fixtures.
Here are some enclosed fixtures that are the bane of LED bulbs and will reduce their lifespan:
Semi-flush bathroom and kitchen lights
Outdoor porch lights
Mason jar lighting (often seen in restaurants)
Recessed lights, or pot or can lights, that have a glass cover
It's always better to buy enclosed-rated LEDs, though they do tend to cost more.
Can I Mix LED And Incandescent Bulbs In The Same Fixture?
You can't mix LEDs and incandescent lights in the same fixture, and you should avoid doing so in the same room if possible. The high power draw of older bulbs will cause LEDs to overheat, massively shortening their lifespan. It can also make LED lights flicker.
Incandescent lights get super-hot, so having them in the same light fixture as an LED bulb is a bad idea. You're exposing the LED to temperatures it can't handle, even if it has a good quality heat-sink.
Also, the older incandescent bulbs will draw most of the power from the circuit, often leaving the LED lights without enough.
This can make your LEDs wide open to a host of other problems like flickering, buzzing, or outright failing.
FAQ
Do LED Bulbs Work In 3-Way Lamps?
LED bulbs will work in a 3-way lamp socket, but only at the brightest setting. You won't be able to change between dull, mid, and bright settings as you would with special 3-way incandescent bulbs.
Do LED Lights Fit In Normal Sockets?
LED lights can be used in normal E26 light sockets. The bases of LED bulbs are the same as older incandescent and halogen bulbs, so as long as you're buying LED bulbs with the same bulb base, they'll fit into the socket.
Can I Use LED Bulbs In Halogen Fittings?
You can use an LED light bulb to replace halogen lights. You just need to make sure you buy the right bulb base and that the existing fixture is not enclosed, since that could cause the bulb to overheat.
Can I Use LED Bulbs In Recessed Lighting Fixtures?
Provided the recessed lighting fixture doesn't have a cover, you can use LED lamps in recessed fixtures to replace traditional bulbs. As long as there's airflow for heat to escape, you can switch to LEDs and save on your electricity bill.
Before You Go…
Switching to modern LED lights from other bulbs can be great for your home – the same amount of light produced compared to what an incandescent bulb emits, but with improved energy efficiency.
What's not to like? And it's really simple too, since LEDs will work in your existing fixtures, in most cases.
You just need to be careful with enclosed lighting fixtures, or if you want to use a dimmer switch with your LED lights.
Read my guide to make sure you get compatible bulbs for your dimmer switch, and enjoy the long life of your LEDs that you should.
Looking for an LED bulb but not sure what type you need?
Check out my free bulb picker and select the right bulb within few clicks.