Being the energy-conscious, tech-savvy, economically-sensible person in your family and your street, you're ready to swap out your old incandescent and halogens for the best LEDs on the market.
Before you purchase 10 of those LEDs you've had your eyes on, give this guide a read to see if you can use LEDs in any light fixture.
LEDs can be used in any light fixture, as long as it's not enclosed or air-tight, and is not an old-style dimmer system. Both these will shorten the lifespan of LED bulbs.
Can You Put LED Bulbs in Halogen and Incandescent Fixtures?
If everything fits and is the correct voltage, yes, you can easily swap all your halogen and incandescent bulbs in your fixtures with LED replacements.
The fitting of the bulb base is the first thing you need to keep in mind. The two most common bulb bases are either the E27 screw type or the GU10 pin type. Both of these are available in LED bulbs as well.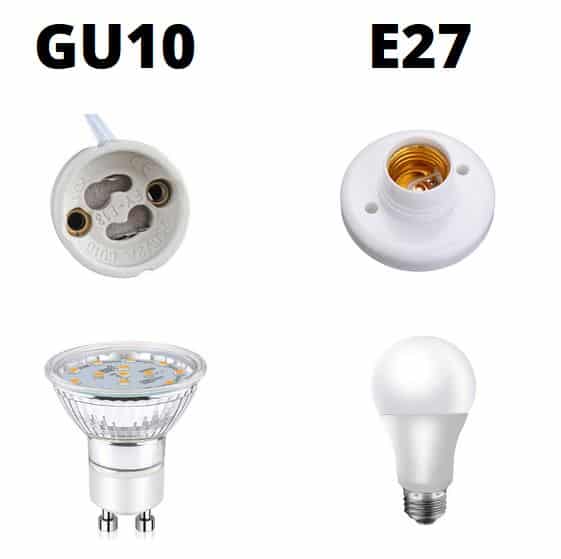 Sometimes the halogen or incandescent bulb is meant to be decorative and visible outside the fixture.
If this is the case, your replacement LED bulb should be appealing to look at. For example the Edison (Amazon) or Globe bulbs (Amazon) are all the rage in aesthetic lighting.
And if you're wondering how to see if you have the correct wattage as you exchange the bulbs, read ahead.
When you're buying the replacement bulbs for your traditional fixtures, remember that the wattage of the LED bulbs does not have to be the same as the older bulbs.
Keep an eye out for Lumens, which is the light output, instead of wattage, which is power consumption.
For example, LEDs may use 8.5 watts, and halogens may use 30 watts of energy to shine as bright as a 60-watt traditional bulb.
Similarly, an 18 W halogen bulb outputs around 220 lumens, while an 18 W LED bulb outputs more than 1300 lumens.
Here is a conversion chart with some more answers for your replacement questions.
LUMENS TO WATT CONVERSION CHART
Brightness in Lumens
220+
400+
700+
900+
1300+
Incandescent
25W
40W
60W
75W
100W
Halogen
18W
28W
42W
53W
70W
CFL
6W
9W
12W
15W
20W
LED
4W
6W
10W
13W
18W
Also, you can read up on the differences between a halogen and an LED bulb to see which will serve you better. I think you know the answer.
Can LEDs Be Mixed With Incandescent Bulbs In The Same Fixture?
Unfortunately, using LEDs along with incandescent bulbs in a multi-socket enclosed fixture will put your LED in harm's way as the other bulbs bring up the ambient temperature inside the fixture.
So even if your LED is good quality with a well-designed heat sink, it may still fail due to the unexpectedly excessive heat which it wasn't designed for.
One thing a lot of people do, and you also might be thinking of is this: Buying the LEDs for one fixture one-by-one and replacing them gradually.
But I must warn you, don't do that. It is much better to change all of the bulbs in the same go. Otherwise, you will risk reducing the life of your LEDs considerably.
Having a mix of LEDs and other bulbs is not a good idea.
The heat of the incandescents will gradually destroy the sensitive semiconductors, drivers, and electronic chips inside the LED bulb.
LED bulbs love and thrive in cool conditions, and putting them next to a traditional bulb will mean an early death.
That's not all.
Incandescent also draws more power than LEDs, and when both are on the same circuit in the fixture.
The LED will get lesser power, making them wide open for a host of other problems like flickering, buzzing, or outright failing.
You don't want to mix halogen and incandescent bulbs with LED bulbs if your fixture is a dimmable type fixture.
You may observe that your LEDs may dim poorly, flicker, or not work at all.
The dimmer, which has been working well and is compatible with the traditional bulbs, might not work well with the new LED bulbs as it's an older system.
And you'd want to blame the LEDs, but using incandescent dimmers with LEDs is like using apple seeds to grow oranges!
For these reasons, it is, in fact, even better to buy all LEDs in one fixture of the same brand as they will be rated for similar conditions and fixture usage.
Do LEDs Need Special Fixture?
There might be a couple of reasons why sometimes you cannot simply put LEDs in any old fixture.
As mentioned previously, if an existing fixture has a dimming feature, and your new LEDs are not compatible. You will run into trouble with dimming capability, such as flickering or strobing or incomplete dimming.
Now to the LED's strong feature. They love cool conditions. And any fixture that allows that is a great one for LEDs. First, you need to identify the fixtures that are NOT suited for LEDs.
Here are some enclosed fixtures that are the bane of LED bulbs and will kill them faster:
Bathrooms and kitchens usually have semi-flush enclosed lights that suspend close to the ceiling.
Outdoor porch lights are covered in glass to protect from the weather.
Fancy retro mason jar housing seen in restaurants is airtight.
Recessed lights, or pot or can lights, fit inside the ceiling and are covered with a glass front and trim.
Even track head lights and some table lamps will be counted as enclosed since they don't have enough space to dissipate the heat away.
So those are all examples of air-tight enclosed applications. Now you know what NOT to put your LEDs in.
How To Determine Whether Fixture Is Suitable For LED?
Conversely, any fixture that is well ventilated, allows for good heat dissipation and is open from all sides is a good fixture for an LED bulb.
There's always a way out, though!
If you have bought an enclosed rated LED bulb, which has a large aluminum heat sink that dissipates heat quickly and effectively. You can easily use those in your existing enclosed fixtures.
Final Words
Until the existing systems and fixtures in place catch up with the growing LED industry, it's always a smart idea to first buy one new bulb, try it out, without mixing it with other bulbs, and if all goes well, then purchase the lot.
Do you have a strategy in mind to replace the bulbs in your fixtures?
Are your existing bulbs on dimmer systems?
Looking for an LED bulb but not sure what type you need?
Check out my free bulb picker and select the right bulb within few clicks.