Nowadays, some home features are more for nostalgia than actual purpose.
While your parents may swear by ceiling fans, you might be more impressed by a wide-open ceiling and central A/C of modern architecture.
Turns out, new lighting technology may also be incompatible with old-style fans.
Smart bulbs are not very well suited for ceiling fan light kits. These fixtures are relatively small, and cannot usually fit a smart bulb inside. Even if it fits, the convenience factor of using a smart bulb is lost, since the fan still needs to be controlled manually.
Are Ceiling Fans Different To Standard Lighting Fixtures?
When you think about bringing a room together, you need to consider all the walls of that space. Including the ceiling! In fact, designers know very well that a slight change in a ceiling's color, pattern, or accessories can transform the entire room.
So you need to give your room's lighting source a little thought before you accessorize.
In modern built homes, you will be hard-pressed to find ceiling fans in all rooms. At most, the bedroom could benefit from air circulation, but fans can be a nuisance in all other rooms.
Consider this. A medium or small-sized living room with average height ceilings and spotlight around the room having a fan. In this situation, you will notice unsightly shadows and movement cast over the room.
Also, the bulky dark fan fixture hovering over people can make them seem confined and uncomfortable. Open, clear ceilings help a person feel relaxed and cozy.
Another thing you need to keep in mind is that ceiling fans are primarily fans. Yes, they do have built-in fixtures for lights, but they are very cumbersome.
For starters, the fixture on a ceiling fan is pretty small and or highly decorative. The small fixture is necessary because the fan is already taking up so much overhead space. So the light fixture gets compromised.
A small fixture limits you to no end. You will have noticed how pale and sickly the light is that shines from ceiling fans. This is because the bulb's size and wattage that can be placed in the ceiling fan light fixture have limitations.
For example, the U.S. Department of Energy has established that the bulbs' total wattage should not exceed 190 Watts, or the fan fixture will not operate!
Say the fixture has 5 bulb sockets, each bulb cannot be more than 38 Watts.
The usual limit for a single bulb's wattage in a ceiling fan fixture is anywhere between 25-60 Watts.
More wattage than advised leads to overlamping, which makes the contacts in the fixture overheat. This heat passes onto the insulation surrounding the fan box. In extreme cases, weak insulation can cause the fan to fall off!
When we look at controlling a ceiling fan and light kit, you will be again faced with a cumbersome decision. One scenario is that the room will have 2 switches, one for the fan and one for the light.
Also, the bulb size will be smaller because bigger bulbs cannot fit into the small fixture.
Here again, you are compromising on the added features that bigger bulbs can offer. A lot of smart bulbs are not small. And smart bulbs allow you to change colors, add scheduling, and control them remotely.
Another scenario is the entire fixture will have one switch on the wall, but then a hanging string from the fan itself controls the lights. It becomes rocket science if you want only the fan, and not the lights, or only the lights and not the fan.
So let's talk about the second and the better option.
Purpose-built, dedicated lighting fixtures, and chandeliers are the preferred option with the newer homes. They come in a variety of designs and shapes according to the size and purpose of the room.
It adds modern drama and value to the room without the overbearing presence of a hovering fan.
Additionally, light fixtures will, of course, have a single switch, which makes life easy. It can be made easier thanks to smart technology that we will explore further below.
The Two Main Problems With Ceiling Fans Lighting
Using a ceiling fan instead of a dedicated fixture can create problems when smartening up your home.
Suppose you have installed smart bulbs in your ceiling fan fixture. Now you don't need to physically turn the wall switch on or off as everything can be controlled by the smart app on your phone, right?
Wrong. You still cannot control the fan and its speed through the app, so you need to go to the switch or fan to control it. So a ceiling fan fixture restricts your options.
If your ceiling fan has a two-in-one switch (Amazon), which turns off the fan and light together, that's another problem.
Smart bulb switches always need to stay on to be on stand-by mode so that they can communicate with your remote app over the WiFi network.
Can You Control The Fan Through A Smart Bulb?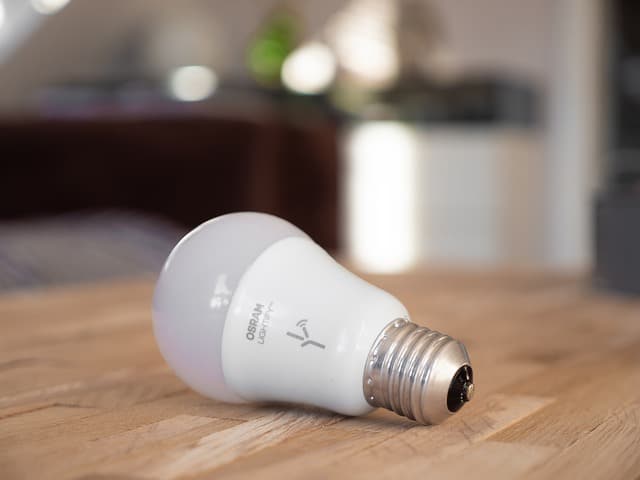 While the smart bulb and its remote app can do a whole bunch of cool stuff you always imagined, it is limited to the components it is connected to.
You would agree that if you're investing in smart bulbs, you would like to reap all the benefits that come along with them. Such as remotely controlling the lighting through the remote app, like adjusting the brightness or turning it on and off.
The whole idea is convenience at your fingertips.
But the purpose gets defeated if, at the end of the day, you are still making the trip to the switch to control the fan.
And if your smart bulb is connected to Alexa or Google, it is kind of silly to say, "Alexa, turn light brightness to 50%", but then having to get up to turn on the fan.
The smart bulb, the remote app, or the digital assistant, cannot control the fan as they are not linked!
Apart from installing a dedicated light fixture, there is another solution out there if you really love that ceiling fan.
You can get smart dimmers (Amazon) that allow you to control both the light and the fan remotely through your phone.
So this way, you can control the lights through the physical switch, the voice commands, or the phone app.
Final Words
Exploring your options when setting up a smart home is very important to avoid wrong decisions.
Now you know that you can either get a standalone light fixture or a smart switch that controls the fan and the lights.
Share with me how you plan to configure your lighting fixture?
Where is your favorite place to set up smart bulbs?