If you're lucky enough to have an apartment with a balcony, it can be a great place to unwind on those warmer evenings.
Grab a comfy chair and your favorite drink, and you can sit and soak in the calm outdoor air or the bustling view below.
But you don't want to sit there in the dark as the hour gets late.
Sure, you could leave the door open and use an internal light, but that might not set the right mood (and it could open up other issues, like bugs or a breeze getting into your apartment).
You can use string lights on a balcony. You could use adhesive-backed hooks, cable, or zip ties or wrap them around your balcony railing to hang them. To avoid trailing cables, you could choose battery-powered lights or solar lights.
To make it easy when setting up your balcony lighting, I've written this guide explaining:
How to hang your string lights on your balcony without drilling
The best way to wrap lights around a railing
How to power your lights without an outdoor outlet
How To Hang Balcony String Lights Without Drilling?
It is easy to hang lights anywhere in your home if you have a drill and don't care about using it.
The reality is that most of the time, we only want to drill interior or external walls if we have to.
If the property is rented (as many apartments are), you might not be able to without risking a penalty at the end of your contract.
So, how can you hang string lights on a balcony without drilling hooks into the wall?
The best option will depend on the surface you're attaching them to and any other accessories on your balcony.
You might be able to use adhesive-backed hooks.
These work similarly to gutter hooks, but instead of hanging on a gutter pipe, they have a strong adhesive backing so that you can stick them onto a flat surface.
Because they use an adhesive pad, you can even get them to cling to some uneven surfaces, though you'll need bigger hooks since they'll come with a thicker adhesive pad, which will fill in the gaps better.
They're waterproof – permanently handy for outdoor environments – and won't leave nasty marks once finished with them.
Just pull hard in the direction indicated on the pad, and it'll stretch and come clear of the surface, leaving only a mild residue you can quickly clean.
Another option is to use zip ties or cable ties. Of course, you'll need anchor points, but if you have anything that a zip tie could wrap around, you can tie the string lights to them securely.
You could also wrap your lights around anything else you have on your balcony to secure them – plants, pots, poles, and trees would all work well, with higher surfaces better since they'll shine the light more around the balcony.
You can also use tape to secure a string light to a flat surface, but you'll need to ensure it is weatherproof.
Otherwise, the rain will cause the tape to peel.
Wrapping Lights Around A Balcony Railing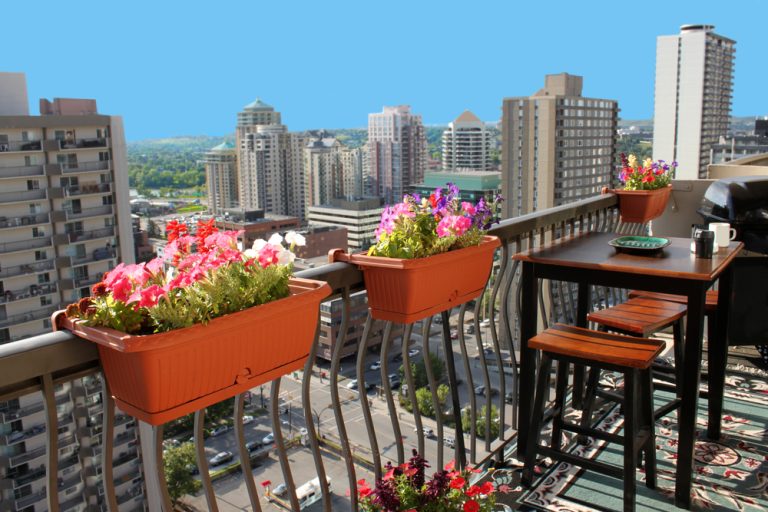 If your balcony has a railing that isn't a solid piece of material – i.e., it has gaps – then you already have the perfect surface for hanging your string lights.
Because wrapping your lights around the railing is one of the easiest ways to add them to a balcony.
You don't just have a ready-made anchor for your lights, but it's one of the more attractive places you can put string lights too.
You can't wrap the lights around the railing, though – that's not enough. As soon as the wind picks up, those lights are getting blown out of place.
You also want to ensure they stay evenly spaced, so you'll need hooks or ties to secure the lights at regular intervals.
If your railing is wood and you don't mind drilling into it, you can drill small holes to attach hooks. Otherwise, you can use adhesive hooks, zip ties, or carabiners to hold the lights in place.
Once you've wrapped the lights around the railing and secured them, you'll need to power them.
Although you should have worked this out before installing the lights, it's one of the biggest factors in installing them.
So let's explore your options.
How To Light Up Balcony With No Outlet
String lights don't work by magic. However, we all wish they did since it would make installing them easier.
But no – they need power.
So if you don't have an outlet on your balcony – and most people don't – then you'll need a solution.
If you use a set of string lights that must be plugged in, buying an extension cord is the best course of action.
This doesn't need to be weatherproof, provided you bring it indoors with you every time you aren't using it, and you only use it when it's not raining.
But there are alternatives if you want to avoid the hassle of a trailing cord.
Final Words
Even small balconies look fantastic when string lights gently illuminate them, so they're worth looking into.
You need to make sure you secure them properly. While string lights aren't too expensive, you don't want to lose them every time the wind turns strong!
How have you illuminated your balcony space, and how do you keep your lights safe?
Looking for an LED bulb but not sure what type you need?
Check out my free bulb picker and select the right bulb within few clicks.