Are you looking for color-changing, low-profile lights for your bedroom? What about ambient task lighting to put around your kitchen cupboards?
LED lights – and in particular strip lights – are very effective solutions. But then you need to know how to stick LED strip lights on wall surfaces so that they'll stay put.
When hanging LED strip lights on the wall, you need to:
Prepare the wall so it's clean and free of debris
Measure and cut your LED strips to size
Peel the adhesive and hang the LED strip lighting bit-by-bit
Or, use an alternative adhesive and stick the strip lights to them, and then the wall
In this guide, I'll explain:
How to stick LED strip lights on wall without damaging it
How to make sure they stick to the walls
Resticking strip lights where they've fallen or dropped
Alternative options to stick LED strip lights
How To Stick LED Strip Lights On A Wall Without Damaging Paint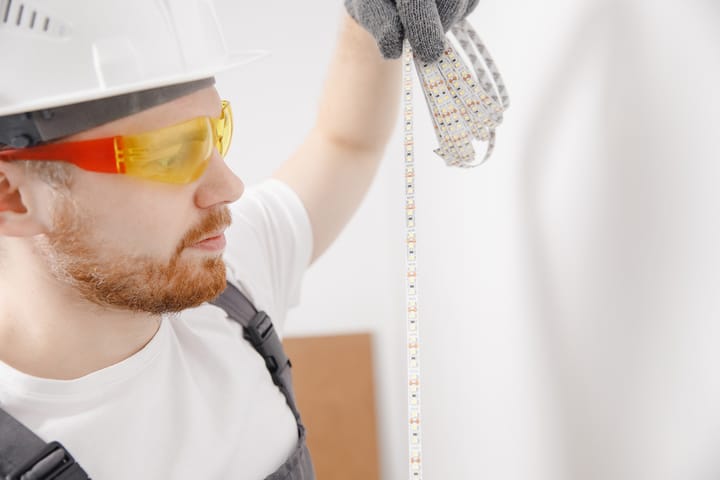 Here's how to stick led strip lights on a painted wall:
Step #1: Measure
The first thing you need to do is measure the area that you want to adhere the lights to. Use a ruler or tape measure to do this. No guesstimates.
Don't forget to identify your power source first. Otherwise you might be running too short and have to restick the strip.
Step #2: Cut to Size
If necessary, cut your LED strip down to the correct size. Use a sharp knife or pair of scissors for this.
Only cut at the designated cutting lines. Severing your strip in the wrong place can damage the circuitry and prevent some of the LEDs from working.
Step #3: Prepare your Surface
The adhesive backing on LED strips performs best on smooth, clean surfaces. If grease or dust gets in the way, the connection between the adhesive and the surface is limited, and they are not able to form a strong bond.
To minimize this happening, dampen a cloth with warm water and rub back and forth on the surface. Once you're satisfied, dry the area with a lint-free rag or paper towel.
You need to be careful, because you don't want to rub the paint away. Make sure it's not a freshly-painted wall, and that you're gentle when cleaning it. Don't use abrasive cleaners which could strip the paint.
Step #4: Peel off the Adhesive Backing
Starting at one end of the strip, peel off the plastic sticker to reveal the adhesive backing. To prevent dust or debris in the air from sticking to the adhesive, only peel a little at a time.
Step #5: Position and Press
Position the LED strip in the correct place and use your hand to press it onto the surface. Continue to peel, position, and press until the entire length is stuck down. Take your time with this.
Step #6: Light Them Up!
Plug the connector cable into your power supply and turn your LED strip lights on!
Can I Place The Strip Lights On Freshly Painted Wall?
To avoid damaging paint, prefer to use a latex-based paint, and wait for at least 4 weeks after painting to hang the strip light. LED strip lights are more likely to damage fresh paint that hasn't cured, or really old paint.
New paint is not invincible. Although fresh paint may feel touch dry in around 24 hours, it usually takes between 2 and 4 weeks to fully cure.
If you apply LED strips to a newly painted wall, they will become part of the curing process.
Essentially, the bond between the LEDs and the paint will become stronger than the bond between the paint and the wall.
If you are considering repainting, I would suggest to use latex paint as it has more resistant surface (and is good for wiping down stains/marks – so landlords, if you own a rented house, this is a good option to stop tenants from causing as much damage).
How To Keep LED Light Strips From Falling Off The Wall
LED strip lights will fall or peel off walls if the adhesive doesn't bond correctly with the surface. This is common with surfaces that are:
Rough
Bumpy
Dirty
Moist or humid
That's because the adhesive is designed to be applied to a flat surface with the most surface connection. And moisture can dilute and weaken the adhesive.
Ideally, you should only apply LED strip lights on flat surfaces that are clean.
If the surface is uneven you can:
Double up on the adhesive used so that it bonds more with the raised surface that it does touch
Try a different type of LED light, instead of a light strip
Similarly, adhesives typically don't perform well in humid and/or moist environments. Excess heat from the strip in a humid environment will alter the consistency of the adhesive, making it less durable.
To help with a humid atmosphere:
Dry the wall before applying the strip lights
Install them near a window or AC vent if you can
If not, make sure there is regular air flow through the room to reduce humidity
The impact of gravity also means that LED strips fall down more often when placed on their sides or face downwards. If it's not possible to install your strip lights facing upwards, you could try mounting clips or a mounting channel to add stability to your setup.
How To Restick LED Strip Lights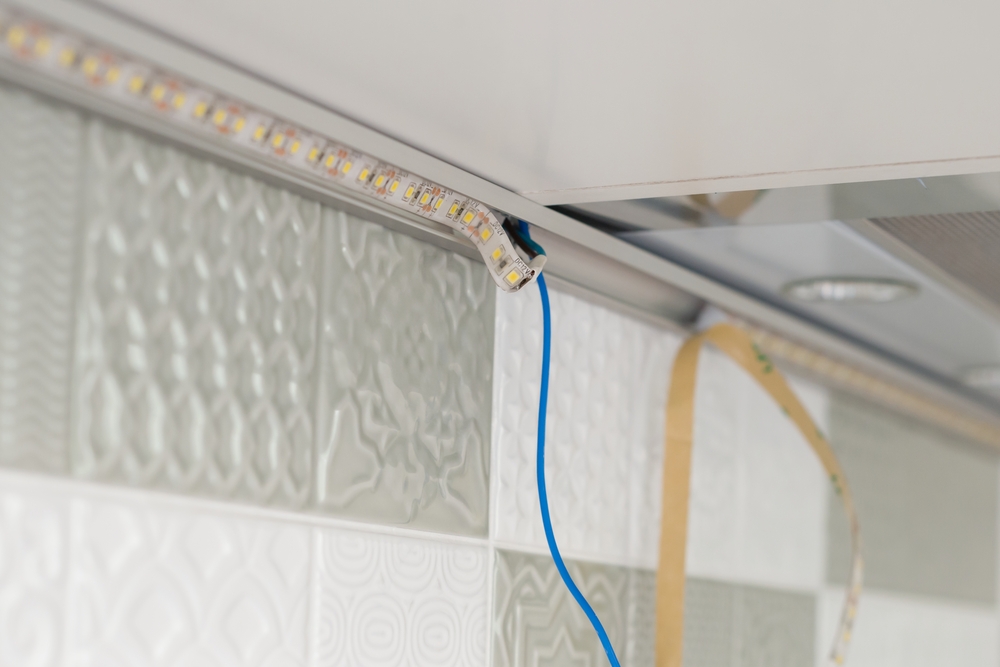 Unfortunately, the adhesive is not reusable – once it has formed a bond with one surface, it will be difficult to form another strong bond with a different surface. If you want to restick LED strips for any reason, you'll need to reapply new adhesive to the strip lights first.
If you're just trying to restick a section of strip lights that have fallen, it's up to you to decide whether to pull down the entire strip or just focus on the patch that's lost its stickiness.
Either way, the first thing you need to do is get rid of the old adhesive.
To remove old adhesive from the strip, soak an old rag with acetone, Goof Off, WD-40, (Amazon) or a citrus-based cleaner and rub the adhesive gently but with a little vigor. Be careful not to oversaturate, and water damage your LEDs.
From here, you can select a new adhesive. This could be more 3M tape, extra-strong double-sided tape, command strips, glue dots, or adhesive clips.
Best Adhesive For LED Strip Lights
The best adhesive for an LED light strip is usually the 3M adhesive tape that typically comes attached to the light strip already.
It's extremely strong when you want to hang LED strip lights, and can adhere to uneven surfaces. However, it may be too strong on old paint, so consider alternatives that are weaker.
If you've followed the guidance to install LED strip lights on a freshly painted wall – ideally with latex-based paint, and you've waited a few weeks – then go with the 3M tape from your strip lights. It's the gold standard and will keep the lights on the wall for a long time.
Command strips are another semi-permanent solution that people tend to use. These aren't as strong as 3M tape, but they are good on textured surfaces, and they won't leave a mark.
Just stick a command strip every few inches discreetly behind the strip light. These small adhesive strips can be removed easily later by pulling on the tab in the indicated direction.
How To Stick LED Strip Lights On Wall Without Adhesives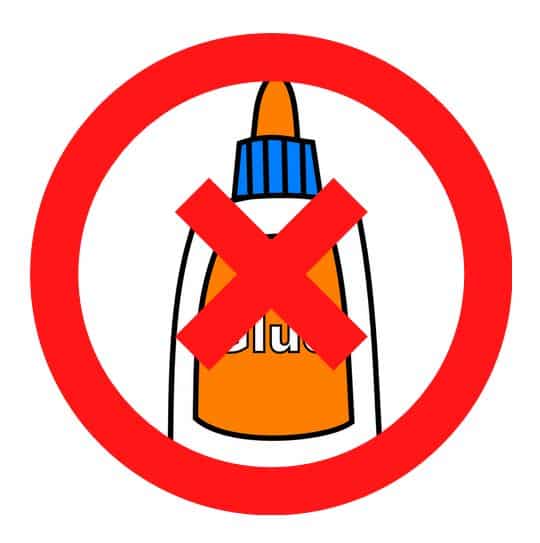 There are a number of options available if you want to avoid using adhesives to stick up your LED light strips. While most LED strips come with the adhesive already attached, you don't have to peel it. You could instead use:
Mounting putty
Cable ties
Command hooks
Staples
How To Stick LED Strip Lights With Mounting Putty
Use your hands to mold a strip of putty to the desired shape and then push it onto the back of your LEDs. The strip can then be stuck to the designated surface.
Putty is the weakest option, but it's versatile, while cable ties depend on the surface as to whether they can be used.
One putty solution is Loctite Fun Tak. This is described as a moveable, versatile alternative to nails, glue, or staples.
How To Stick LED Strip Lights With Cable Ties
You could use cable ties to affix your LED strips to an object. You just need to wrap the cable tie around the light strip and the surface you're connecting it to.
Understandably, this doesn't apply to all scenarios – cable ties can't be wrapped around your kitchen cupboards. Still, they can be fixed to your stairway banister.
Use clear ties to avoid disrupting the LED's light output; the example of how not to do it is in the above image.
Lesson learned.
How To Stick LED Strip Lights With Command Hooks
Command hooks are like a less discreet version of command strips. To install them, you simply peel the back from the command hook and place it against the wall, and then sit the LED strip in the hook. You could also stick the hooks to the light strip and then hook it onto a surface if you had a suitable option.
Command hooks are great for hanging all kinds of materials, but they're not the best solution for installing LED light strips. The hooks don't tend to be tight enough to keep your strip lighting taut.
While you can stick the command hooks to the strip itself, you then need a surface with holes that you can hook it onto.
Use command strips instead for a much neater finish.
Can You Staple LED Strip Lights?
If your staples are wide enough to fit over the LEDs like an archway, there should be no problems. But if your staples are narrower and have to pierce through the LED strip, there's a chance you could damage the inside circuitry and stop some of the lights from working.
The answer depends on your staples' width compared to the width of your lights.
Instead, you can use specially designed mounting brackets for strips, just like this one from Amazon.
The only downside is that you need to drill the hole. So brackets will work well if you plan to have your light strips mounted permanently.
FAQ
Can You Use Super Glue On LED Strip Lights?
Super glue is unsuitable for use on materials such as plastic, polystyrene, and silk. This is because the glue hardens through a chemical reaction that causes it to rapidly heat and cool.
This reaction causes certain materials to degrade over time, so if your LED strips contain plastic, super glue has the potential to cause irreversible damage.
Can You Use Hot Glue On LED Strip Lights?
Hot glue doesn't contain the same harsh chemicals as super glue, which means it is much safer and will not damage your LED strips.
The only thing to be wary of is the temperature of the hot glue. If it is too hot, you could melt through your LED strips. But this is unlikely to happen.
Conclusion
It's easy to see why LED strip lights have revolutionized the way we light our homes. They're immensely versatile, which means they can cater to any and all of your lighting needs.
Just be sure to follow these careful steps for installing them, using the right high-quality tape or other adhesive solution if you want them to stay on the wall.
You'll also want to read the partner to this article on how to remove LED light strips, so you can be sure to keep your property safe when it is time to take them down.