When LED strip lighting came out about 15 years ago, it took hobbyist's imagination by the storm as they thought of ways to light up spaces with a romantic red, futuristic blue, or an edgy purple vibe.
LED strips are perhaps the most fan-favorite application of LED lighting projects. They have many uses and can instantly take the mood of the room to new places.
Since they're in the form of thin, flexible stickable strips, they can go literally anywhere.
You can connect a number of LED strips together with the upper limit depending on the strip's power output and your power source. Strip lights can be connected using connectors, cables or by soldering the connection joints.
Can Multiple Strip Lights Be Connected Together?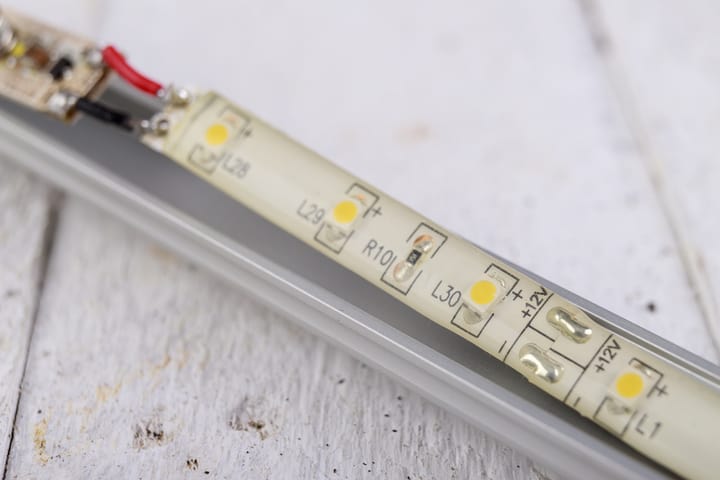 You can easily connect two LED strip lights together, considering they come in reels with marked dotted lines for cutting the strips into the size needed.
These strips can then be joined in two ways: Using connectors or soldering the strips' copper pads.
Using a sharp blade, you can strip away the protective plastic layer to expose the circuit connection dots on the LED strip, ready for connecting leads or connectors.
Can You Connect Different Brand LED Light Strips Together?
You can connect different brand LED light strips to each other, providing they have the same voltage.
Suppose you try to connect two strips with different voltages. In that case, they simply won't work due to different voltage requirements for each strip, and you risk damaging them – a waste of money.
You also need to make sure that, when you connect them, you properly align the polarity. Different brand light strips could have the polarity wired slightly differently – ensure that the positive connectors are aligned.
You should see a plus and minus symbol next to the copper pads to direct you.
It's worth noting that different LED strip lights brands can also be manufactured to various quality. If you decide to connect different brand LED strips, you might find that one wears out faster or begins to dim.
It's always easiest and best to connect LED strip lights manufactured by the same company, even if it means passing up a cheap deal on a lower-priced brand.
Is It Safe To Connect Multiple Strip Lights?
A no-brainer for safety is to always buy quality and certified products. Cheap LED strips connected in series are known to be a fire hazard as they use thin material that cannot withstand high currents and heats up very quickly.
Since LED strips are mounted on wood or plastic surfaces, the heat can be a real fire hazard.
Now considering you're using an authentic product, there are still a few precautions.
As you might have a few different types of LED strips lying around that you want to connect, you must consider their differences.
For example, an RGB LED strip uses 3 times more power than a white LED strip.
Not all strip lights can be connected together as they can't run on the same power source. The PSU and LED strip voltage have to match. There can be three ratings.
If your LED strip needs 5 Volts DC (VDC), your PSU needs to be 5 VDC. The same applies for 12V and 24V LED strips.
Apart from safety, you also need to think of the most cost-effective way to power your connected strips.
It's not the most energy-effective technique connecting LED strips into one line and looping it back to the starting point to cover a rectangular ceiling.
A smart approach would be to place a power supply on one corner of the rectangular ceiling. Then, connect two LED strips in parallel from the power supply. Each strip runs along two sides of the rectangle, both ending on the opposite corner to the power supply.
In this way, you avoid using two power supplies and prevent voltage drop where strip lights towards the end of the chain are getting dimmer due to voltage drop.
I will cover the difference between connection in series and parallel a bit more later, but now let's dig into how to safely connect multiple LED strips.
Also read: What Is The Difference Between Rope And Strip Lights?
How To Connect Multiple LED Strip Lights Together
As I briefly said before, there are two main ways of connecting strips together.
The easy way is to use a strip connector, and the harder way (but not too much) is to solder the connection pads.
So, let's start with the easy route first.
How To Connect LED Light Strips Using Connectors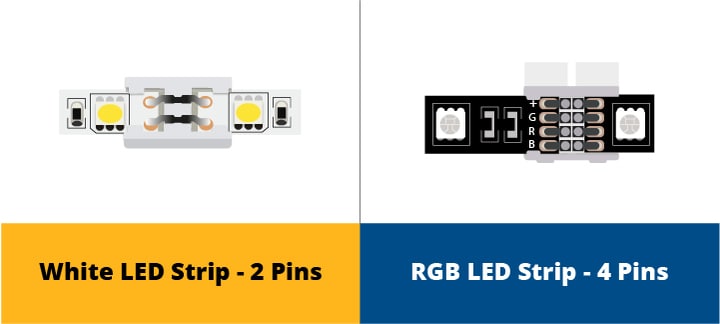 There are a few connector types that you might need to use, depending on your requirements.
First is a simple connector clip with pins (Amazon) that is used for connecting continuously running LED strips using the copper markings.
This type of connector is great when you want to make the connection invisible, leaving the impression that it is one long chain of light strips.
The clip connectors often come in different shapes based on your needs to account for various corners and strip crossings.
Next is a connector with two clip pins on either side with cable in the middle (Amazon). This is used to extend two LED strips with an extra cable to use around corners or angles.
If you have the heating pipe in the room as I do, the connector with wire will be a great option to bypass the obstacle.
Just a word of caution, make sure that the connecting cable does not directly touch the pipe as you can get the strip setup seriously damaged.
Lastly, a connector that has only one clip on the side (Amazon) and an exposed wire on the other with cable in between is used to connecting LED strip to power supply unit (PSU).
Alternatively, you can use it to connect to the RGB controller and then to the power source if you want to remotely control the setup.
The beauty of strip connectors is that you simply place the light strip's end into a designated space in the clip and align wires correctly.
Most of the clips are aligned to the strip setup, but it's always best to double-check.
Here is the little video that shows how to connect two strips.
Speaking of different strips there is one thing you need to be aware of which is the difference when connecting white and RGB strips.
Do RGB LED Strip Lights Require Special Connectors?
If you're connecting RGB LED strip lights, then you will need to buy specialist strip connectors. That's because of the number of pins that each type of LED strip light has.
A simple white LED light strip has two pins, so you'll need a connector designed for two pins. RGB strip lights have four pins, so make sure you buy strip connectors with the same four pins.
There is a third type of strip, too known as RGBW. These have a dedicated white chip. While RGB LED strips can create white color, they can't get as pure white as an RGBW strip can.
RGBW strips have five pins so make sure you buy strip connectors with five pins.
How To Connect LED Strips Without Connector?
As I said before, it is actually possible to connect LED strips without a connector.
You can solder some joints! You can use soldering irons to solder the voltage and red, green, and blue pins to the next wiring.
In fact, soldered connections are more mechanically sturdier and can carry more efficiency through extensions.
It is therefore recommended to solder the connections if you are using too much current.
Moreover, if the LED is a particularly high brightness one, then some connector wires are not suitable due to the strip's high powered output.
So given that you have the skill and equipment to solder, you might even prefer to solder if your strip will especially be running high current.
After that, cover with a heat shrink, protect the joints, or use the electrical tape to cover the joints.
Should You Connect LED Strips In Series Or Parallel?
To answer this question, it's best to start by explaining the difference between a series and a parallel circuit.
In a series circuit, your light strips will be connected end-to-end directly. The power supply will only plug directly into the first LED strip in the chain.
In these circuits, the current is constant while the voltage is divided between the LEDs.
This means that you might not get the same brightness throughout the circuit, and you'll need to make sure the power source you use is a constant current one. Also, if one of the strips in your series fails, the whole circuit will stop working.
In contrast, a parallel circuit has each strip wired to the power source. This means that the current is split between each strip, but the voltage is equal. These are trickier to install in the first place, but if one of your strips fails, the others will stay lit.
However, the current will instead be diverted. If you've connected multiple strips, then it shouldn't be an issue. Still, if you've used a parallel circuit for just two strips when one fails, it means the current is doubled for the other strip, which can cause it to burn out too.
If you want consistent lighting, then a series connection is best. Still, you would need a very high constant current driver for longer connections to ensure there was no dip in performance. If you lose one strip, you'll get no lighting until it's replaced.
For complex circuits with lots of LEDs, a parallel circuit will be harder to install but will stay partially lit if a strip fails.
How Many LED Strip Lights Can I Connect Into Chain To One Power Supply?
Using too many strips can max out the driver in the circuit and cut your driver's lifespan, and thus your LED strip, in half.
So be very cautious about choosing the correct number of strips and the right corresponding power supply unit.
Here's a general rule to use, considering you have some information about your LED strips and power supply.
You can calculate that by multiplying the watts per meter of your strip, into the length of the strip you are powering.
Then, choose a power supply rated for about 20% MORE than that amount.
Let's suppose you have a 60W power source. It is highly advised to leave a headroom of 10 to 20% of unused power, so you can assume you can draw 54W from this power supply unit (PSU), taking away 10%.
Now, calculate the watts used by each strip by multiplying the strip's length into the watts per foot of the LED.
The watts per foot information is typically listed on the product page or specification sheet.
Divide that total into 54 to determine the number of strips you can use.
Nevertheless, the exact number of LED light strips you can connect together will always depend on the exact specifications of the devices you have.
MOST manufacturers recommend a maximum of 2 to 3 strips to power by one PSU.
I have also made a simple calculator for you to help you out with maths. Enjoy.
What's important to know is that with each addition of an LED strip, the power supply rating needs to be ramped up.
Your LED strip will only draw the power it needs from the PSU, and not more. And since it won't have to work so hard to draw power, your setup will generate less heat and last longer.
Else the high power being drawn into the strip can cause damage.
One telling sign that your power supply isn't enough or that you've connected too many strips is that down the strip, your LEDs will become dimmer and dimmer, known as voltage drop.
In addition to the current regulation, if the LED strips' power is high due to more LEDs per meter or high output LEDs per meter, you need to limit the total length of connected strips.
Here's a specific example:
If the LED has 4.8 Watts per meter strip, it is advised to power a maximum of 10 meters in a single line for 60W supply, and for 9.6 watts per meter strip, you should only power 5 meters.
Things To Keep In Mind When Connecting LED Strips
There are a couple of things to watch out for when starting your lighting project. I have already pointed out most of them, so before I wrap it up, let me just summarize.
When connecting many LED strip lights to one power supply, it is crucial to use a rated power supply for MORE watts than your strip lights setup require.
Your power supply should not be rated less than or the same as the combined strip wattage. Otherwise, you run a risk of experiencing a voltage drop where LEDs at the end are dim.
Getting into the actual connections, you must always cut an LED strip from the copper connections located every couple of inches on the strip. If not, then some of the LED lights in the cut area may not work.
Make sure to use a heat shrink over the connectors to protect them, which are different for indoor and outdoor uses. Alternatively, you can also use electrical or insulating tape.
The positive and negative of the strip has to always match the negative and positive of the connector. In RGB LEDs, the colored wires have to match the connection dots labeled B, R, G, and 12 V, as I said before.
Final Words
It's always a good idea to draw out and plan your lighting project before you purchase anything.
You might find that you may not need to connect as many LED strips end-to-end, and you are better off using connector cables to extend the length in some places.
Share with me any projects you have undertaken.
Have you used connectors or soldered joints to connect LED strips?
Where are you planning to use LED strip lights?