Apartment living is becoming more and more popular, as cities become more and more limited on space but the population continues to rise.
Also, the housing market is changing with more people now resorting to renting, as they cannot commit to buying their own property.
Did you know that in the US, 44 million households are renters? And of those, 37% are renting an apartment.
Those figures are huge, and so it's important for those 16 or so million households living in an apartment that they can easily make their space comfortable.
But many apartments don't even have overhead lighting. This is because it's not a legal requirement for many rooms in the National Electrical Code.
Good lighting is crucial to a happy, healthy lifestyle. So, if you're one of those living in an apartment, especially one you don't own, how can you properly light it?
Light a room using bright lamps, paying particular attention to furniture you want to highlight and the direction of sunlight through the windows. Use tall wall lights for high ceilings and mirrors to reflect natural and artificial light where necessary.
There are lots of ways to effectively light your space, so let me explain:
Why many apartments don't have ceiling lights
How to light up a space without electricity
Things to avoid when planning your lighting solution
Factors to bear in mind
Lighting your room effectively
Why Do Apartments Not Have a Ceiling Light?

The main reason for apartment living areas to not have ceiling lights is just down to money.
Suppose you're buying an older building to convert into apartments or building a new tower block. In that case, you're making a considerable investment already. So you need to make sure you save every penny you can to guarantee as big a return as possible.
Wiring the ceiling of every single apartment, therefore, becomes a costly job that's just not necessary from the construction company's perspective.
If the laws don't require them, why add them?
Bathrooms and kitchen spaces will still likely have them since they're needed for safety where there are hazards.
But living and dining areas often don't because it's cheaper to use as few permanent lights as possible.
The argument of construction companies is that the savings made on ceiling lights are then used on other parts of the apartment to improve your quality of life, such as better appliances or enhanced security systems.
And because you have wall sockets, you should be able to sufficiently light the room as you want to, so the builders leave the decisions in the tenant's hands.
How to Light Up a Room Without Electric Lighting?

So you've bought an apartment or signed a lease to rent one, and you're ready to start buying all the lamps and bulbs you're going to need.
Well, hold on, because first, you need to think about how you might light the room without anything electrical.
For the most part, non-electrical solutions can help but won't be the complete answer.
You won't be able to get by with just these tips, mainly as some of them rely on daylight anyway, and chances are you'll want to stay in your apartment at night!
But, use these as a starting point because when you consider these options, you'll know where your dark spots are and what lighting you need.
Decorate in lighter colors, provided your lease allows you to.
Lighter colors reflect more light, so not only will the walls themselves look lighter but they'll help bounce light around the room.
Use mirrors to reflect natural light
Look at the direction that your windows face, and position mirrors to reflect the sun into darker corners if that's possible and work within your chosen décor.
More furniture equals more shadow, so if you really want to lighten your space, then try to declutter and avoid buying too much furniture. A minimalistic room will always appear to be lighter than a busy one.
You could also use candles, although many tenancy leases ban real candles due to the fire hazard they pose.
Battery-powered candles could therefore be an option, although they don't give off a lot of light.
Things To Avoid When Lighting The Room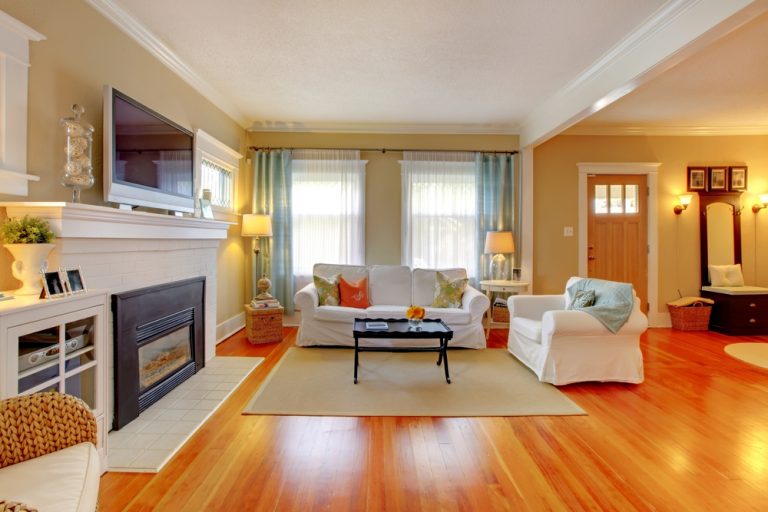 The first major thing to avoid, when you're leasing an apartment, is tearing down the wall to re-wire it.
This will break the terms of your lease, and any deposit you've put down will be forfeit. In addition, the owner could potentially seek compensation for damages.
Even if you hire the best electricians and plasterers to carry out the work, you would still be at fault unless you then had the wiring stripped out and all the job cleaned up before you left.
If you think ceiling lighting is essential, then negotiate with the owner, ideally before you sign the lease in the first place.
But mostly, you'll need to avoid big re-wiring jobs.
Even things like strip lights or wall fittings might need to be ruled out if the adhesive or screws would damage the paintwork, so always check before you stick things up that might cause future problems.
When it comes to the brightness of your light, the brighter the better right?
Well, not necessarily.
Avoid just buying the brightest option because, in a confined lamp or apartment space, it might look harsh or cast darker shadows around the rest of the room.
Don't buy one that's too dim, either.
The best option is a dimmable lamp or a smart bulb, which lets you adjust it to suit the room.
But otherwise, plan the light and the direction before deciding on the right brightness for your space.
Finally, consider your neighbors.
Apartment blocks are often close together, so even on a high floor, you might have a neighbor opposite.
Laws on light pollution vary depending on where you live, and most of them apply to outdoor lighting only. But, you could still attract complaints if you install a light that shines directly out of a window into a neighbor's living space.
Use shades, or keep brighter light sources away from the window.
Things To Keep In Mind Before You Start

Once you've explored non-electrical lighting options, and made sure to think about what to avoid, it's time to start planning.
Think about the size of the room
…and include the height of the ceiling in that.
You'll need to think about what type of light you want and whether it'll sufficiently light the space.
Consider where you'll position the lights.
Are they going to be mounted onto the wall? And if they're freestanding, will they be on the floor or on a table, so they're higher up?
Color and temperature
Next up, think about the temperature and color of the light.
If you want white lighting, do you want warmer shades or a cooler, lighter blue-white that may look more artificial but will seem brighter.
And if it's color, think about whether that's a colored bulb or a smart light with RGB diodes so you can customize it.
Plan your focal point(s)
When planning all the above, think about where you want to shift focus in the room.
Is the TV the focal point, and if so, do you want to backlight it? Or is it family portraits – hanging photos is pretty pointless if they're in the shade.
Fixture and lamp materials
Finally, consider the materials you want for your lamps and light fixtures, and make sure they fit the theming of the room.
Glass and metal are a lot more contemporary, so they're a great fit if you like modern style.
On the other hand, wooden fixtures are cozier and suit a family space or somewhere that you just want to feel warm and comfortable.
Lighting Up a Living Room

So with all that knowledge in hand, what's the best way to light a living room?
Well, it'll depend entirely on your room and your tastes but here are some of the best options.
Wall lights are ideal for lighting up recesses and darker corners. In addition, they provide a good balance between illuminating the floor and leaving the ceiling looking dark.
A directional wall-light with integrated shade lets you highlight the features most important to you.
Take a look at lights like the lamp below; it lets you just plug it into a wall socket, meaning only two small screws are needed – something you can quickly repair when your lease is up.
YILYNN Industrial Swing Arm Wall Lights Plug in Cord with on/Off Switch, Vintage Simplicity Black...
💡WONDERFUL FEATURES AND SIZES: Made of high-quality iron, simply and classically rotatable swing arm design to help you get perfect lighting output; 70.86 inches cord with on/off switch to achieve...
💡EASY INSTALL: All accessories and installation guide are in the package, no additional hardware needed. You can set the sconce near your bed or hang the sconce above your vanity mirror to help you...
💡BULB REQUIREMENTS: Compatible with incandescent, LED, CFL and halogen bulbs with E26 standard USA sockets and 60W Max. (Note: bulb not included)
💡MULTIPURPOSE: Vintage industrial style swing arm plug in wall lights are perfect for Bedroom, Dining room, Kitchen, Livingroom, Corridor, Farmhouse, Bar, Cafe, Warehouse, Restaurant, Club, Library...
💡100% SATISFACTION GUARANTEE: Durable lamp head and cord provides you a safe and durable product. We offer 3 years warranty and guarantee FREE replacement for any damaged products. Any questions...
Last update on 2022-12-01 / Affiliate links / Images from Amazon Product Advertising API
If you want a freestanding option, then tall lamps work great in corners to draw attention to that side of the room.
There are many modern options available, including some like the following lamp that integrates storage into the lamp and USB charger points – functional and stylish.
Sale
PAZZO Floor Lamp with Shelves, Shelf Floor Lamps by Real Solid Wood with 2 Charging Ports and 1...
Real Solid Wood; Our floor lamps with shelves are made of solid wood with stable structure, are high loading and durable. The non deforming high density beech frame,1.5 inch thick, can bear up to 30...
2 Fast Charging Ports and 1 Power Outlet Function; Our latest shelf floor lamp light has 2 charging ports(one USB and one Type C)and a power outlet, which can charge 3 devices like cell phone, pad...
Easy Assembly; Come with tools for assembly, and manual with assembly chart, just screw in the screws, put the white lamp shade on. It may only take several minutes to set up.
3 Color Temperature LED Bulb Included; Our shelf floor lamp includes a 9 watt, 1000 lumen power saving LED bulb. The LED lamp bulb is 3 color temperature 3000 Kelvin, 4000 Kelvin, 5000 Kelvin. Our...
Freedom Storage and Display; The 3 tiers wood panel is helpful and useful. In addition to charge 3 electronic devices on the third power panel at the same time, these shelves can also be used as...
Last update on 2022-12-02 / Affiliate links / Images from Amazon Product Advertising API
Or, if you want the lighting to stay lower, more focused on furniture than illuminating the whole room, table lamps will create a cozier space.
There are loads of modern options available, including these interesting two-bulb lamps (Amazon) – choose to have shaded or open light, or both at the same time.
When choosing your bulb, the easiest option is a smart one, provided you get one that lets you change the color of the light.
It doesn't need to be fully RGB unless you want it to be – a white ambiance bulb (Amazon) is sufficient, as you can switch it from warm to cool white to suit the theme of the room. You can dim it too when you need to.
Or, instead of buying separate table lamps and smart bulbs, you could get completely standalone smart lights (Amazon) that are self-contained.
These modern options are fully dimmable and RGB and can up-light any focal point in the room.
Final Words
When you think of lighting a room, you'll likely always picture having some form of ceiling light. Still, with all this information at hand, you should realize that you don't need one. There are plenty of other alternatives available.
As for which is the best – that's not a question that can be answered since every apartment and room is different, as are your own personal tastes.
However, you are likely to need a combination of some or all of the above to get it just right.
I'd love to hear your ideas, too, so share your own living rooms for some extra inspiration, or add a comment with your favorite lights for living rooms.
Looking for an LED bulb but not sure what type you need?
Check out my free bulb picker and select the right bulb within few clicks.